We recognise that climate change is a critical issue for the UK and the wider world. The impact of climate change also poses a significant risk to our activities. We're committed to taking the action necessary to ensure that we contribute to addressing this challenge. 
As a signatory of the UN Principles of Responsible Banking we're committed to an ongoing process to align our strategy with the 2015 Paris Agreement and the UN Sustainable Development Goals. 
Full details of what we are doing on climate are detailed on our Climate Action Plan 2023-2040.
Our Climate Action Plan sets out a range of activities designed to enable us to contribute to a Net Zero World:
Our Enviromental Ambitions
We're commited to doing what we can to help address climate change. Not only is it a critical issue for the world but it also poses specific and significant risks to our business. 
We've signed up to the UN Principles for Responsible Banking. This helps ys act in line with the 2015 Paris Climate Agreement and the UN Sustainable Development Goals, and we welcome the accountability it brings.
In 2021, we drew up our Climate Action Plan. We're making good progress - in the table below, you'll see our achievements to date, the progess we've made in 2022 and our ambitions for the future. We hope to get there by changing the way we operate our business and encouraging out mortgage members to make green home improvements.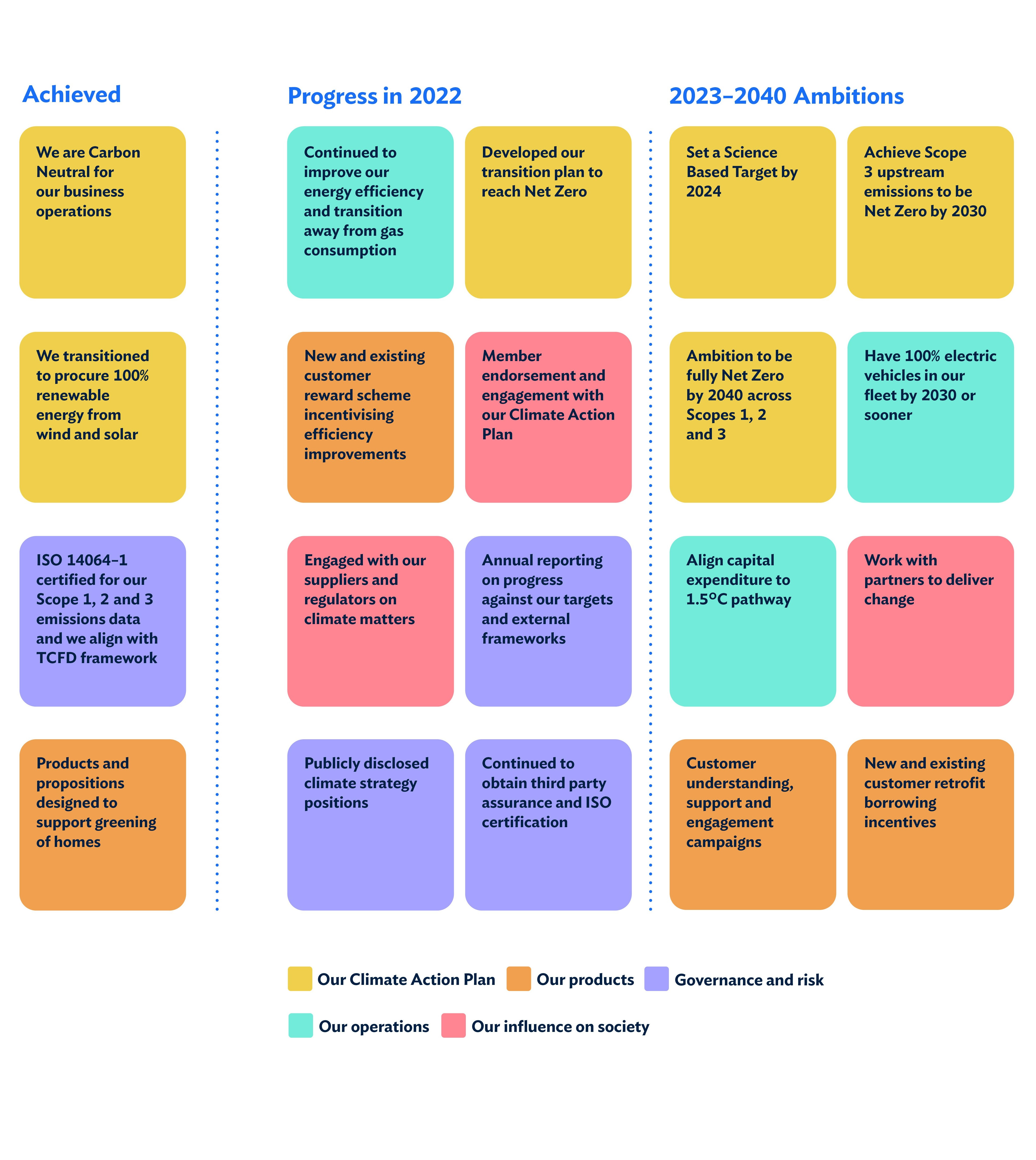 Since 2021, we have been a carbon neutral business for our Scope 1 and 2 emissions. We achieved this by:
Reduction in emissions
Reducing our emissions through energy efficiency and demand reduction measures.
Renewable energy
Sourcing credible renewable energy arrangements to ensure Scope 2 emissions are removed.
Carbon offset
After we have reduced our emissions as much as possible we have balanced any remaining emissions through high-quality offsetting solutions.
All our Scope 1 and 2 emission have been verified by ISO 14064-1.
With the release of our first Climate Action plan 2021-2023, we focused on addressing our direct Scope 1 and 2 emissions. We now have a credible plan in place to deliver our Net Zero ambitions against this and we are already a carbon neutral business for our own operations.
We are now focusing on how we can continue to reduce our indirect Scope 3 emissions to enable our ambition to be fully Net Zero by 2040, through:
Goods and Services
Working with suppliers to eliminate the emissions in the products and services we buy
Waste disposal
Reducing the waste we generate and the emissions arising from their disposal.
Employee commuting
Encouraging colleagues to commute to our premises using low carbon means of transport.
Pension fund
Providing our colleagues with a platform to invest their pension funds in, which is consistent with the ethical and climate agenda.
Wholesale activities
We will assess the emissions created by our counterparties and will consider their plans for emission reduction in our decision making.
Business travel
We will work with colleagues to reduce business travel. We are offering colleagues an electric car scheme via salary sacrifice, providing them with access to zero emissions travel.
Our ambition is to be totally Net Zero by 2040, but there is much work to do to achieve this goal, in particular working with the Government and utility providers to enable home owners to make their properties more energy efficient. We're committed to providing our members with products to help them make this transition as well as offering resources which help our customers make decisions on what energy efficiency options make most sense for them.