Fake websites and online scams 
About fake websites and online scams
A spoof website imitates a genuine website in order to fraudulently collect personal or sensitive data from you. They're designed to look like the genuine site. You can even be on a genuine listing site where people are not who they say they are. You buy goods, pay for them and nothing arrives. 
How you can protect yourself from online scams
Closely check the website address of any site you're visiting. Watch out for small clues like a spelling mistake in the web address. Check the security certificate. On the login page of a website, click on the padlock symbol next to the address in your browser's top bar.
Be wary when buying goods online, especially from a listing site such as eBay, Facebook Marketplace and Vinted . Goods might not arrive or are not what you ordered. Make sure you carefully check the seller's history and use online payment options such as PayPal that can help protect you, instead of sending money direct.
Here are some ways to avoid the threat:
VPNs are a smart investment for safe browsing, hiding your sensitive confidential information, whilst offering stronger protection.
Limiting access to public-Wi-Fi networks. Not all publicly available Wi-Fi hotspots are secure. Criminals could intercept your data, even if you access an app without retyping your password. Your phone or tablet will still send your password details over Wi-Fi and this information could be intercepted.
Verify seller credibility by reading reviews and checking ratings from other buyers.
Avoid paying sellers directly or using payment methods that lack buyer protection, such as bank transfers or gift cards.
About parcel delivery scams
The criminals impersonate courier companies, often using texts or emails that claim there are issues with a package.
The scammer's goal is to have victims either reschedule a delivery or send additional payment for supposed delivery fees, all in a bid to get hold of personal information and bank details.
Here are some helpful tips to protect yourself from package delivery scams:
Verify the sender's identity by cross-checking it with the official website or contact details of the delivery company. Often, the tell-tale signs are in the email address.
Never divulge personal or financial information through unsolicited text messages, phone calls, or emails.
Exercise caution when making online purchases, especially if the deal seems too good to be true. Stick with trusted sellers and online merchants to minimise your risk.
Cryptocurrency scams
Cryptocurrency is cash that only exists digitally. While it is legal (the largest is Bitcoin), cryptoassets aren't regulated by the FCA or protected by the Financial Services Compensation Scheme. Cryptocurrency values often fluctuate dramatically so even a legitimate investment could be risky.
Criminals use sophisticated tactics to trick people out of their money, including using celebrity endorsement, websites that showcase a non-existent investment, or fake accounts that give the illusion of big profits. You might receive a phone call or email out of the blue offering you an 'unmissable' opportunity, or offered a bonus or discount if you invest now. 

Once you've handed over your investment, the scammer will disappear into thin air. And because cryptocurrency is unregulated, no one can help you get your money back.

How to protect yourself from cryptocurrency scams
Be wary if someone contacts you out of the blue about a cryptocurrency investment opportunity. Don't give out any of your personal information over the phone, via email or in any form of internet chat. 

And don't be tempted to rush into anything. If someone is trying to push you into acting quickly, it's likely to be a scam. If you receive something that looks tempting, do your research thoroughly. And if you're promised high or guaranteed returns, be cautious. No investment is guaranteed, but cryptocurrency investments can be more volatile than most.

About suspicious emails
Emails designed to steal your details can look like they come from a genuine company, such as your bank or building society, HM Revenue & Customs or a service such as TV Licencing, PayPal, eBay, Amazon or iTunes. Instead of being genuine, they're often unexpected and encourage you to enter or update your personal or security information so it can be accessed fraudulently. There's often a time limit and they give you a link to click.
How you can spot and report a suspicious email
Look out for emails from people or companies you don't know or were not expecting. They sometimes have spelling mistakes and are often not personalised to you. Click on the email address of the sender to check if it looks legitimate. Most legitimate companies will include some personal reference, such as part of a postcode or your account number. Be particularly wary if you've been given new payment details to use. And if it looks suspicious and you're being asked for confidential information, don't click any links or open attachments.
Links can often take you to a fake webpage asking you to update or confirm your details or security information. Clicking the link might even trigger the download of a virus onto your device and an attachment can do the same.
Don't acknowledge or reply to the email and report it by forwarding it to report@phishing.gov.uk.
Remember - we'll never send you an email asking you to enter your details or linking you directly to our online banking.
About remote access scams
Someone accesses your computer or mobile phone using software they've persuaded you to install.
Be wary of anyone who calls you telling you they need to 'fix a problem' with your computer. They might claim to be from your broadband provider for example, and tell you they need to correct an issue with the router. The only way they can do this is by gaining access to your computer.
They might even offer to pay you for doing it, then claim they've overpaid you and ask you to log in to your online banking to return the money. Before you know it they have your bank details.
How you can protect yourself against remote access scams
Don't allow a third party remote access to your computer or mobile phone and never log in to your accounts while you're on the phone to someone else.
Don't share your security details with anyone – even if you have a joint account, your login information should be unique.
Never agree to anything hastily – if you're in any doubt, say you need time to think and end the call.
Online dating and social media scams
About online dating and social media scams
This is when you're tricked to make a payment to a person you've never met and with whom you believe to be in a relationship, or you trust. It often takes place through online dating websites, but criminals may also use social media such as Facebook, Instagram or email to make contact.
Once trust is gained, they'll ask (either subtly or directly) for money, gifts or banking/credit card details. They pretend to need the money for some sort of personal emergency. It could be for a severely ill family member who requires immediate medical attention or financial hardship due to an unfortunate run of bad luck such as a failed business or mugging.
How to protect yourself against online dating and social media scams
Never send money or your bank details to someone you haven't met in person.
Be alert to spelling and grammar mistakes, inconsistencies in their stories and other signs such as their camera never working if you want to video-call each other. Don't rush into an online relationship – get to know the person, not the profile and ask plenty of questions.
Analyse their profile and check the person is genuine by putting their name, profile pictures or any repeatedly used phrases and the term 'dating scam' into your search engine. Perform an image search of your admirer to help determine if they really are who they say they are. You can use image search services such as Google or TinEye.
Talk to your friends and family about your dating choices. Be wary of anyone who tells you not to tell others about them.
Stay on the dating site messenger service until you're confident the person is who they say they are. If you do decide to meet in person, make sure the first meeting is in a public place and let someone else know where you're going to be.
About Wi-Fi hotspot fraud
Not all publicly available Wi-Fi hotspots are secure. Criminals could intercept your data, even if you access an app without retyping your password.
Your phone or tablet will still send your password details over Wi-Fi and this information could be intercepted.
How to protect yourself against Wi-Fi hotspot fraud
Make sure the Wi-Fi you connect to is secure. Don't use public Wi-Fi for doing anything you wouldn't want a criminal to see, such as online banking, accessing emails, or anything that requires a username or password.
Use your mobile data connection if you're not sure that the Wi-Fi is secure. Data passed via your own mobile data connection is encrypted and therefore more secure.
You can also use a Virtual Private Network (VPN) when connecting to public Wi-Fi. A VPN will encrypt information you send, they can be downloaded as apps.
It's also good practice to check your account statements on a regular basis for unusual activity. It's quick and easy with our Online Services. 
How you can stop fraud by taking five
Take Five to Stop Fraud
Criminals are experts at impersonating people, organisations and the police. They spend hours researching you for their scams, hoping you'll let your guard down for just a moment.
Stop: taking a moment to stop and think before parting with your money or information could keep you safe.
Challenge: could it be fake? It's ok to reject, refuse or ignore any requests. Only criminals will try to rush or panic you.
Protect: contact us immediately if you think you've fallen for a scam and report it to Action Fraud. 0300 123 2040 (Monday to Friday 8am - 8pm). If you're calling from abroad: +44 300 123 2040.
Find out more on the Take Five to Stop Fraud website. 
Want help?
Our help section is bursting with useful information. If you'd rather chat, just give us a call.
Call us on
0800 121 8899
Lines open
Mon-Fri

8am-7pm

Saturday

9am-2pm

Sunday & Bank holidays

Closed
Yesterday, people waited on average 
17 seconds for savings enquiries
17 seconds for mortgage enquiries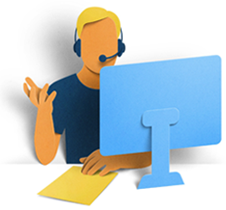 Want help?
Our help section is bursting with useful information. If you'd rather chat, just give us a call.
Monday - Friday
Saturday
Sunday
Bank holidays
8am - 7pm
9am - 2pm
Closed
Closed
Yesterday, people waited on average
19 seconds for savings enquiries
6 seconds for mortgage enquiries