What is a suspicious text message?
Criminals may send text messages to trick you into giving them your personal information such as your email address, password, account number, or other important details. If they get that information, they could gain access to your email, bank, or other accounts, or they could sell your information to other scammers.
Suspicious text messages can encourage you to click on a link which will often take you to a fake webpage asking you to update or confirm your details or security information. Clicking the link might even trigger the download of a virus onto your device.
How you can spot and report a suspicious text message
Look out for text messages from people or companies who you don't know or were not expecting to contact you.
Text messages may claim that there is a problem with your payment information, that there has been suspicious activity on your account or even offer promises of a free prize or an incentive to encourage you to click on a link.
Avoid clicking on links within text messages, do not share any sensitive information and pay attention to grammar or spelling mistakes as this is a sure sign of a scam.
If you're not sure if a text is real, contact the company that claims to have sent it, to check using the official contact details listed on their website.
Always report suspicious text messages for free by forwarding it to 7726 (this spells SPAM on your keypad). This is a free reporting service provided by phone operators. This information is then shared with the police and intelligence agencies working to stop text scams.
Alternatively, you can take a screenshot or screen recording of the text message and send it to report@phishing.gov.uk
What is a 'safe account' scam?
A 'safe account' scam is where a criminal contacts you by text or telephone call and convinces you to transfer all your money to a 'safe account' by telling you that your bank account has been compromised.
Criminals may claim to be from the police or your bank and tell you that to stop the scammers from doing any more damage, you need to transfer all your money to a 'safe account' which has been set up for you.
You may also be told that you are assisting with an important investigation and must not discuss this with anyone, including your bank or building society. You might also be threatened with arrest if you don't co-operate.
Once you have transferred all your money to this 'safe account', the scammers will disappear without a trace. 
How you can protect yourself from 'safe account' scams
You'll never get a phone call from the police or your bank or building society asking for personal details, bank card numbers, security codes, or asking you to transfer any money.
While scammers will be polite and reassuring during the call in an attempt to scam you, they will also be very pushy and stress how important it is that you do what they say and complete the transaction as quickly as possible, wanting you to stay on the call even if you ask to phone them back.
If you receive a call like this then hang up immediately and using a different phone line call your bank or building society on a trusted number which you have sourced yourself. You can usually find the genuine phone number on the back of your bank card.
Only a criminal will ask you to lie or create a story to tell your bank or building society when moving money or closing accounts. If you're asked to do this then it could be a scam and you should notify your bank or building society immediately.
About identity theft
Someone steals your personal details and uses them to act fraudulently in your name. They could use your details to open bank accounts or take out loans, apply for credit cards and order goods leaving you with the debt. They may even be able to access your accounts. 
How you can protect yourself against identity theft
Keep your personal information and documents safe - shred them after use rather than just throwing them away.
Be suspicious if anyone asks for your personal details and don't write your security details down.
Always question any uninvited approaches in case it's a scam. Instead, contact the company directly using a known email or phone number.
It's also good practice to check your account statements on a regular basis for unusual activity. It's quick and easy with our Online Services. 
Account takeover
Account takeover is a form of identity theft. A fraudster gains access to your personal information and uses it to take control of your online bank, building society or credit card account. Then they can steal your personal details and make fraudulent payments from your account. 

A scammer can use different techniques to access your details, such as phishing, malicious Wi-Fi networks, malware that steals information from your device or by scouring your social media accounts. They could steal your mobile number or take advantage of a data breach, and once they've gained access to one of your accounts they could easily target others, especially if you use the same password for different apps. 

How to protect yourself from account takeover fraud
Make sure your passwords are strong and unique, change them regularly and use a different one for each online account. Be wary of emails that ask you to click on links – they might look genuine but check out the email address and never give out confidential information by email or on an unsolicited call. Don't open email attachments because they could install malware onto your computer. 

And tighten up the security on your social media accounts. If a scammer can access your name, date of birth, phone number and your pet's name, it might be enough to take over your account.
It's also good practice to check your account statements on a regular basis for unusual activity. It's quick and easy with our Online Services. 
About suspicious phone calls
You might get a phone call from a fraudster claiming to be from your bank, building society, HMRC, the Police or other 'law enforcement agencies'.
Their aim is to steal account security information or deceive you into giving them money.
How to recognise a suspicious phone call
If someone's called you unexpectedly, be very wary of giving them any personal information such as your name, address or account details.
Our Customer Service Centre number won't be displayed if we need to call you. This is to prevent fraudsters pretending to be us and trying to get your personal information.
If you're called unexpectedly by someone who says they're phoning about your Coventry account, ask for the caller's full name, job title and department. Then end the call and call us on 0800 121 8899.
To be sure that the line is clear, use a different phone to call us, or call a friend before you call us to avoid reconnecting to the fraudster.
Remember, never give out your full Security Details over the phone - we'll only ever ask you for selected characters from your passwords and Grid Card. 
About rogue traders
A trader turns up on your doorstep unannounced to get business from you. They usually give you a quote for work you may not even need doing and often at a higher price than you should pay.
They're often unpleasant and use threatening high pressure tactics to get you to commit to buying their goods and services. Some will demand payment before they start, or before they've finished the work and never come back to finish the job. They may not even be properly qualified to do the work. 
How you can protect yourself against rogue traders
Never agree to work being done on the spot. If someone knocks on your door and tells you,  'you need work doing' – roof tiling, exterior painting, gutter repair – just say no. Be firm, they may not want to take 'no' for an answer.
If you know you need some work carried out, shop around – get a minimum of three quotes from reputable local traders. Ask friends for recommendations – it's the best way to get someone you can trust to do the job.
Don't take money out for them – if they offer to go with you to get cash out, refuse!
Have you been approached by a rogue trader? Then contact Trading Standards or call:
Citizen's Advice consumer helpline (England): 0808 223 1133
Citizen's Aadvice consumer helpline (Wales): 0808 223 1144
Relay UK - if you can't hear or speak on the phone, you can type what you want to say: 18001 then 0808 223 1133
If you feel like you're in danger call the police. 

About investment fraud
Someone encourages you to invest money in a scheme, but it turns out to be worthless or non-existent. You could lose your hard-earned savings, so always be cautious.
Investment fraud comes in many forms, but there's usually one common promise when someone is encouraging you to invest in a new scheme. They'll say you'll get a high return with little or no risk to your money. They're usually time-limited offers, and they encourage you not to share with anyone.
How to protect yourself against investment fraud
All investments carry an element of risk – it's worth remembering that even genuine investment opportunities, with the potential of high returns, carry a high risk.
Be especially cautious if the contact is uninvited and it's through a cold call, email or letter you didn't expect. Authorised firms aren't likely to contact you in this way.
Don't be pressured into making a quick decision. Consider taking independent professional financial advice before making any kind of investment decision, especially if the type of investment isn't familiar to you.
Check out the firm that's contacting you at the Financial Services Register, and the investment on FCA scam smart or contact the Financial Conduct Authority on 0800 111 6768. 
About holiday fraud
Fraudsters could offer flights, accommodation and other travel services that just don't exist. They may have set up a completely fraudulent website, or it can be just a fraudulent advert on a genuine site.
They may encourage you to pay for your holiday away from the site for a discount. They'll often ask for a direct bank transfer and may even send a confirmation email to make it all look genuine.
How to protect yourself against holiday fraud
Make sure your booking is confirmed by a consumer protection scheme such as ABTA (Association of British Travel Agents) and/or ATOL (Air Travel Organiser's License). Don't rely on seeing their logo, check membership on the ABTA or ATOL's website.
Research any property before you book. Check listings on other sites and be cautious if prices differ significantly.
How you can stop fraud by taking five
Take Five to Stop Fraud
Criminals are experts at impersonating people, organisations and the police. They spend hours researching you for their scams, hoping you'll let your guard down for just a moment.
Stop: taking a moment to stop and think before parting with your money or information could keep you safe.
Challenge: could it be fake? It's ok to reject, refuse or ignore any requests. Only criminals will try to rush or panic you.
Protect: contact us immediately if you think you've fallen for a scam and report it to Action Fraud on 0300 123 2040. If calling outside of the UK call +44 300 123 2040.
Find out more on the Take Five to Stop Fraud website. 
Want help?
Our help section is bursting with useful information. If you'd rather chat, just give us a call.
Call us on
0800 121 8899
Lines open
Mon-Fri

8am-7pm

Saturday

9am-2pm

Sunday & Bank holidays

Closed
Yesterday, people waited on average 
17 seconds for savings enquiries
17 seconds for mortgage enquiries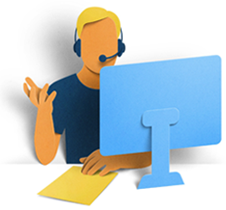 Want help?
Our help section is bursting with useful information. If you'd rather chat, just give us a call.
Monday - Friday
Saturday
Sunday
Bank holidays
8am - 7pm
9am - 2pm
Closed
Closed
Yesterday, people waited on average
19 seconds for savings enquiries
6 seconds for mortgage enquiries